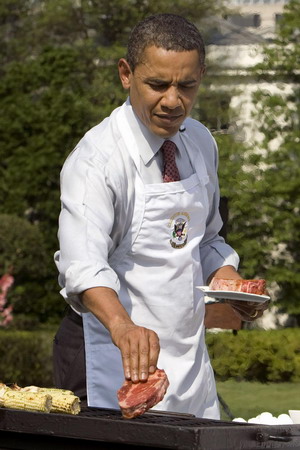 Can Y'all smell What Pres Obama's cooking?
by @zizii2
No I'm not talking about the acrid smell of Boehner's singeing flesh as he roasts in PBO's Veto threats as well as the bonfire that is Congress. That is subject for another diary. No, I'm talking about PBO's Foreign Policy chestnuts roasting beautifully.
****
The Burma Blueprint a Model for Iran Detente
Prez Obama really works best when there's a melee brewing all around him. And so it was in 2011 when the GOP debt ceiling hostage taking was underway, he moved swiftly to accelerate the diplomatic thaw between the US and Burma.  DC was clueless about how that happened and predictably gave PBO very little credit.
In his speech in Rangoon, PBO said:
"When I took office as President, I sent a message to those governments who ruled by fear: We will extend a hand if you are willing to unclench your fist. So today I've come to keep my promise and extend the hand of friendship."
Continue reading 'Can Y'all smell What Pres Obama's cooking?'